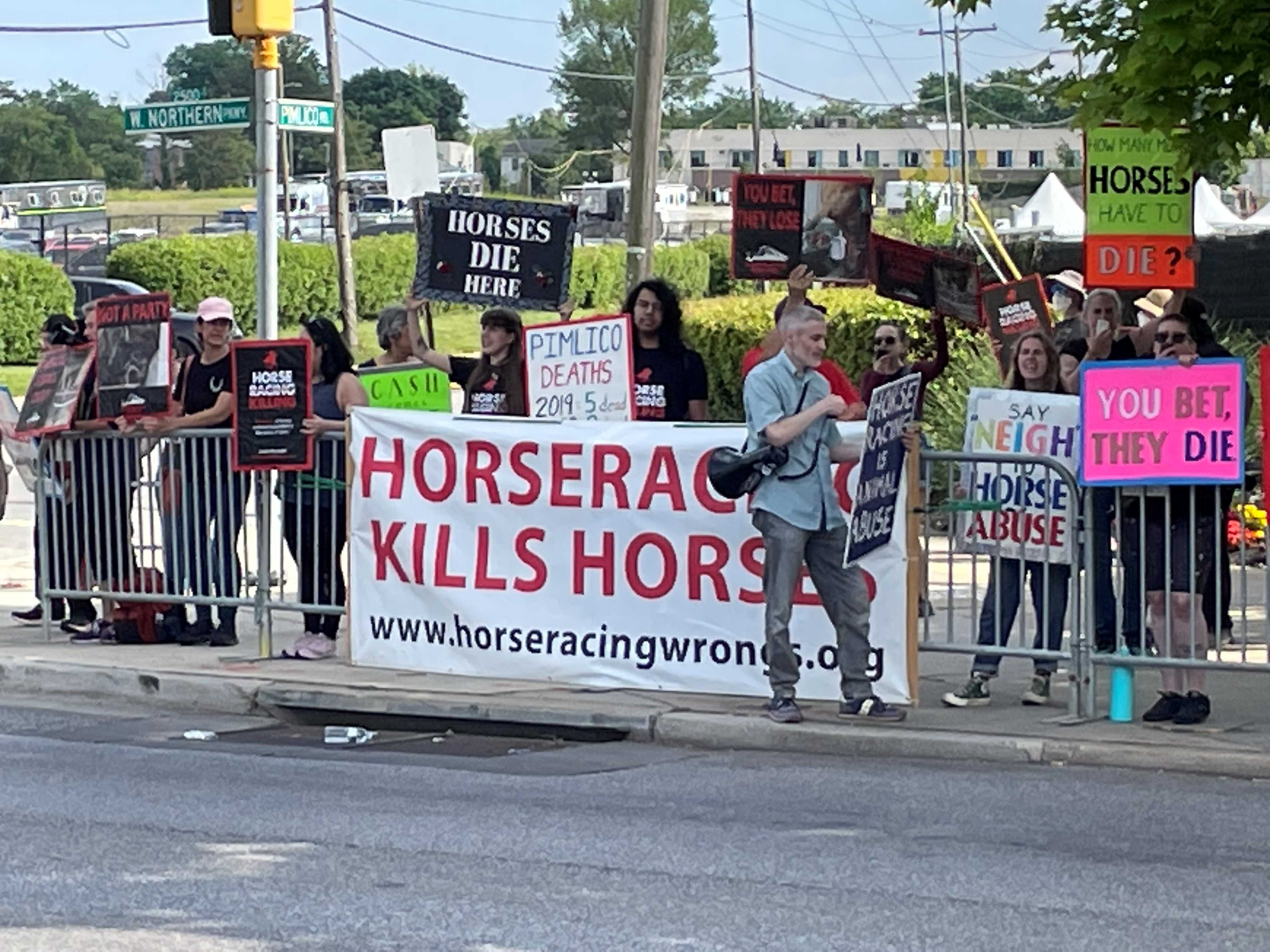 Some horseracing stakeholders in Maryland say racing is at a critical juncture.Some 50 protesters lined a sidewalk Saturday outside Pimlico Race Course ahead of the 148th Preakness Stakes. Many carried their message on signs, some chanted, "Take a stand, horse racing should be banned," and all held strong convictions that horseracing is cruel form of animal abuse that must end."The horse deaths are built into the system. These horses will keep dying until horseracing ends," said Jennifer Sully, a protester.They are calling on more transparency and keeping unfit horses out of competition and committing to making proper veterinary assessments in real-time to safeguard the wellbeing of the animals.Fueling their concern was another tragedy on the track. Havnameltdown, trained by Bob Baffert, suffered an ankle injury in the Chick Lang Stakes on Preakness Day. The 3-year-old colt was looked at by several veterinarians before being euthanized.1/ST Racing released a statement, saying, in part: "Havnameltdown sustained an injury and immediately received on-track medical attention from an expert team of veterinarians led by Dr. Dionne Benson. During the subsequent evaluation, she observed a non-operable left fore fetlock injury. Due to the severity and prognosis of the injury, Dr. Benson and her counterparts made the difficult decision to humanely euthanize the horse."Although horseracing deaths in the U.S. are at their lowest level since 2009, there have been several recent clusters of deaths. Laurel Park recently lost five horses over a two-week period. Horsemen refused to enter races until the track was thoroughly analyzed.Eight horses died at Churchill Downs since April 27.Many believe horse racing is at a crossroads."The industry needs to be trusted by the fans for the fans to continue to support and try to continue grow the sport," Mike Tirico, with NBC Sports, told 11 News.Video below: NBC's Mike Tirico on death of horse at PimlicoMaryland Gov. Wes Moore agrees."There is something we can do, and it's very high on our radar because the growth of the industry is going to depend on the health of the industry," Moore told 11 News.Some veterinarians believe technology is the answer, saying biometric analysis and other data will eventually prevent serious horse injuries or deaths.Video below: Horse trained by Bob Baffert euthanized after injury at Pimlico"It will give us insight that is going to allow us to predict when a particular horse needs to be pulled out," said Dr. Michael Harrison, a veterinarian.The People for the Ethical Treatment of Animals released a statement, saying: "Pimlico should have followed Churchill Downs' example and barred Bob Baffert from the track. Baffert has been implicated in drugging scandals, the deaths of seven horses who collapsed in California, and at least 75 horses in his care have died. The tragic death of Havnameltdown is the latest in a long line of fatalities. The racing industry must kick out the bad guys or it will have blood on its hands as well as blood on its tracks."Animal Wellness Action released a statement, saying: "Bob Baffert being allowed to run at Pimlico this year reminds us again of how the long-standing system of promoting track safety for thoroughbreds and jockeys is broken. If Baffert was rightly excluded from a triple crown venue in 2022 and 2023, then that prohibition should have applied to other race venues during that same time period and especially the triple crown tracks. This is precisely why there must be a national authority to set rules to keep horses safe. Suspended trainers should not be allowed to cherry pick their venues if they've been judged as incapable of keeping their horses safe."Video below: New York Times reporter Melissa Hoppert on horse safety, governance
BALTIMORE —
Some horseracing stakeholders in Maryland say racing is at a critical juncture.
Some 50 protesters lined a sidewalk Saturday outside Pimlico Race Course ahead of the 148th Preakness Stakes. Many carried their message on signs, some chanted, "Take a stand, horse racing should be banned," and all held strong convictions that horseracing is cruel form of animal abuse that must end.
"The horse deaths are built into the system. These horses will keep dying until horseracing ends," said Jennifer Sully, a protester.
They are calling on more transparency and keeping unfit horses out of competition and committing to making proper veterinary assessments in real-time to safeguard the wellbeing of the animals.
Fueling their concern was another tragedy on the track. Havnameltdown, trained by Bob Baffert, suffered an ankle injury in the Chick Lang Stakes on Preakness Day. The 3-year-old colt was looked at by several veterinarians before being euthanized.
1/ST Racing released a statement, saying, in part: "Havnameltdown sustained an injury and immediately received on-track medical attention from an expert team of veterinarians led by Dr. Dionne Benson. During the subsequent evaluation, she observed a non-operable left fore fetlock injury. Due to the severity and prognosis of the injury, Dr. Benson and her counterparts made the difficult decision to humanely euthanize the horse."
Although horseracing deaths in the U.S. are at their lowest level since 2009, there have been several recent clusters of deaths. Laurel Park recently lost five horses over a two-week period. Horsemen refused to enter races until the track was thoroughly analyzed.
Eight horses died at Churchill Downs since April 27.
Many believe horse racing is at a crossroads.
"The industry needs to be trusted by the fans for the fans to continue to support and try to continue grow the sport," Mike Tirico, with NBC Sports, told 11 News.
Video below: NBC's Mike Tirico on death of horse at Pimlico
Maryland Gov. Wes Moore agrees.
"There is something we can do, and it's very high on our radar because the growth of the industry is going to depend on the health of the industry," Moore told 11 News.
Some veterinarians believe technology is the answer, saying biometric analysis and other data will eventually prevent serious horse injuries or deaths.
Video below: Horse trained by Bob Baffert euthanized after injury at Pimlico
"It will give us insight that is going to allow us to predict when a particular horse needs to be pulled out," said Dr. Michael Harrison, a veterinarian.
The People for the Ethical Treatment of Animals released a statement, saying: "Pimlico should have followed Churchill Downs' example and barred Bob Baffert from the track. Baffert has been implicated in drugging scandals, the deaths of seven horses who collapsed in California, and at least 75 horses in his care have died. The tragic death of Havnameltdown is the latest in a long line of fatalities. The racing industry must kick out the bad guys or it will have blood on its hands as well as blood on its tracks."
Animal Wellness Action released a statement, saying: "Bob Baffert being allowed to run at Pimlico this year reminds us again of how the long-standing system of promoting track safety for thoroughbreds and jockeys is broken. If Baffert was rightly excluded from a triple crown venue in 2022 and 2023, then that prohibition should have applied to other race venues during that same time period and especially the triple crown tracks. This is precisely why there must be a national authority to set rules to keep horses safe. Suspended trainers should not be allowed to cherry pick their venues if they've been judged as incapable of keeping their horses safe."
Video below: New York Times reporter Melissa Hoppert on horse safety, governance