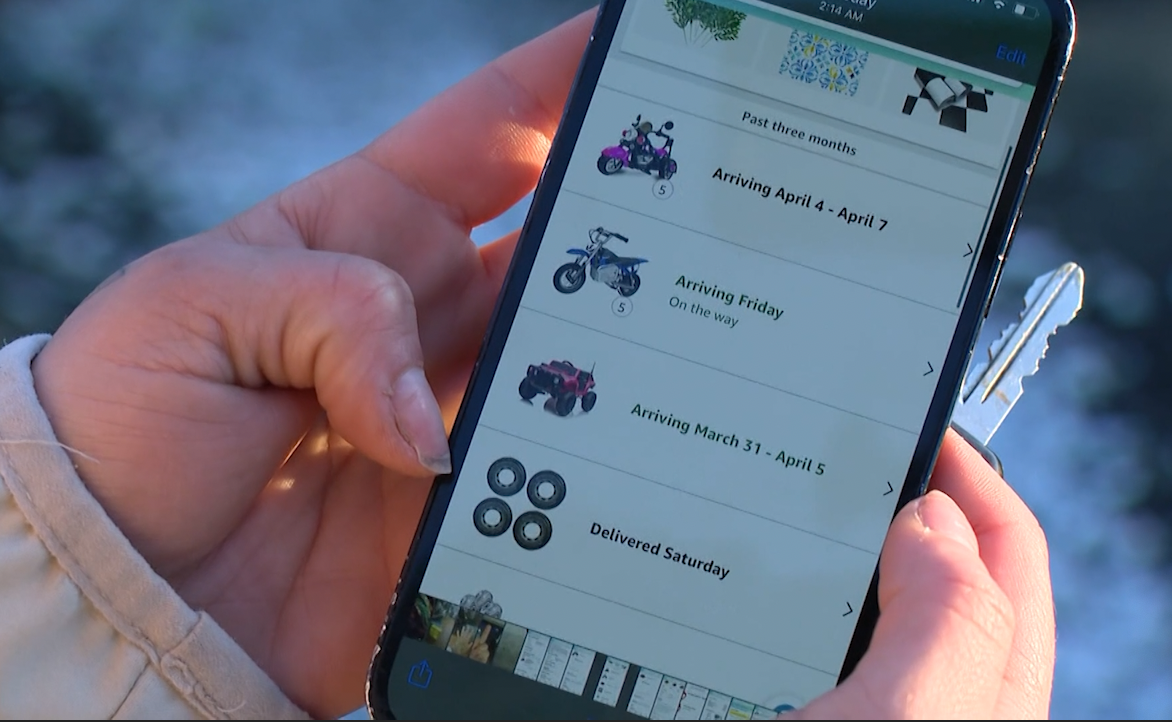 One by one, the Amazon packages started arriving on a Massachusetts doorstep. It confused Jessica Nunes because she didn't order any of them. Turns out, her 5-year-old daughter did. And her shopping spree racked up more than $3,000. "She ordered five pink motorcycles, five blue motorcycles, 10 pairs of cowgirl boots and a Jeep," Nunes told WJAR. Lila Varisco said she figured out to purchase all of the toys on her mom's phone. "You just press the yellow button and you press the brown button," she explained. Once she figured out what happened when Lila was supposed to be playing games on the phone in the car, Nunes reached out to Amazon to see if she could return anything or get a refund.Nunes was able to cancel the order for $600 worth of cowgirl boots before they were shipped. While the Jeep order couldn't be canceled, Amazon is allowing Nunes to return it. Nunes is hoping this accident can be a lesson for her daughter moving forward. "I did tell her that maybe if she acts right, she behaves and she does some chores around the house that we can get her a bike that's more geared towards her age range. A little slower, maybe."
WESTPORT, Mass. (Video above: WJAR via CNN) —
One by one, the Amazon packages started arriving on a Massachusetts doorstep.
It confused Jessica Nunes because she didn't order any of them.
Turns out, her 5-year-old daughter did. And her shopping spree racked up more than $3,000.
"She ordered five pink motorcycles, five blue motorcycles, 10 pairs of cowgirl boots and a Jeep," Nunes told WJAR.
Lila Varisco said she figured out to purchase all of the toys on her mom's phone.
"You just press the yellow button and you press the brown button," she explained.
Once she figured out what happened when Lila was supposed to be playing games on the phone in the car, Nunes reached out to Amazon to see if she could return anything or get a refund.
Nunes was able to cancel the order for $600 worth of cowgirl boots before they were shipped. While the Jeep order couldn't be canceled, Amazon is allowing Nunes to return it.
Nunes is hoping this accident can be a lesson for her daughter moving forward.
"I did tell her that maybe if she acts right, she behaves and she does some chores around the house that we can get her a bike that's more geared towards her age range. A little slower, maybe."